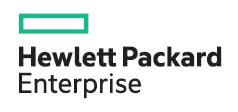 Hewlett Packard Enterprise is the global edge-to-cloud platform-as-a-service company that helps organizations accelerate outcomes by unlocking value from all of their data, everywhere. Built on decades of reimagining the future and innovating to advance the way we live and work, HPE delivers unique, open and intelligent technology solutions, with a consistent experience across all clouds and edges, to help customers develop new business models, engage in new ways, and increase operational performance.
The recent acquisition of Cray, Inc., has bolstered HPE's HPC and AI solutions which now encompass an end-to-end supercomputing architecture across compute, interconnect, software, storage and services, delivered on premises, hybrid or as-a-Service, the portfolio enables enterprises to leverage the same foundational HPC technologies that power the world's fastest systems, and integrate them into their data centres.
For over 40 years, Cray has developed highly advanced computing solutions for the world's most complex science, engineering and analytics challenges. Cray introduced the world's first supercomputer in 1976, and has been a world leader in supercomputer design and manufacturing ever since. Cray develops complete supercomputing solutions that help customers address their otherwise unanswerable questions, with a portfolio consisting of three product lines: supercomputers, storage / data management systems, and data analytics solutions. These products are offered individually or integrated into a complete solution depending on specific customers' requirements. Research and development at Cray is guided by the adaptive supercomputing vision. This vision is focused on delivering innovative, next-generation products that integrate diverse processing technologies into a unified architecture, enabling customers to surpass today's limitations and meeting the
market's demand for sustained performance.
HPE participates in this project through its HPC/AI EMEA Research Lab (ERL), formerly CRAY EMEA Research Lab, co-located in Bristol and Basel, which is HPE's department for future technology research in the HPE HPC/AI division in Europe. It will cooperate with the HPE Competence Center in Grenoble for software development effort. The HPC/AI EMEA Research Lab is currently lead by Master Research Engineer Utz-Uwe Haus, and focuses on deep technical engagements with the European HPC and academic communities. It has current research projects in data-centric optimization, unified data models including memory reuse optimization using polyhedral compilation techniques, workflow management and optimization, adaptive transport methods and tasking frameworks for resilience. The Centres of Excellence at KAUST, EPCC and GW4 are also operated by the HPC/AI EMEA Research Lab.
Website : https://www.hpe.com/emea_europe/en/compute/hpc/emea-research-lab.html